The Danube Day
The International Commission for the Protection of the Danube River has declared June 29, each year to be the INTERNATIONAL DANUBE DAY.

On the occasion of the event the group of Hungarian ham radio amateurs being resided at the Danube River Bend, HUNGARY call for a regularly organized special event activity each year.

All hams worldwide are kindly invited to take part!


---
Official name of the event:
INTERNATIONAL DANUBE RIVER HAM RADIO ACTIVITY
Rules - (magyarul)

Participation: all licensed ham

Period: 0000 UT June 01, - 2359 UT June 30, each year

Frequency: all

Mode: all, repeater operation: accepted, VoIP (EchoLink, etc.) operation is also allowed if both sides are on radio (Radio - VoIP System - Radio).

Special Event Station: -== HG7DANUBE ==-

Report: all participants will send signal report, operator's name, QTH. Stations alongside the river shall send "nr Danube" or "/Danube" in addition.

Points: Stations alongside Danube River from all 10 countries worth 1 point, 2 points can be claimed for them on DANUBE DAY (June 29, according to UT).

QSO with HG7DANUBE worth 5 points all over the activity period except on June 29, according to UT when 10 points can be claimed.

A station sending "nr Danube" or "/Danube" counts once for scoring independently from band and mode over the activity period.

Important: Station counts Danube river station if its QTH is a settlement that bordered or crossed by the Danube or operating portable on the bank or on an island of Danube or sailing on the river. General rule that everybody can work everybody.



Examples of settlements bordered or crossed by Danube river: DL: ULM, REGENSBURG, PASSAU OE: LINZ, KREMS, WIEN OM: BRATISLAVA, KOMARNO, STUROVO
Multiplier
: None
Throphies
: The highest score will be awarded with a special CUP. Furthermore top 3 scores will be awarded with a special Danube Day Activity Certification.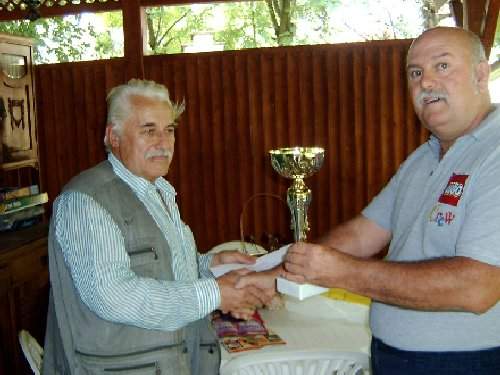 All contacts with Danube stations count and valid for
DABUBE AWARD
.
Please remember that all valid Danube contacts (any time) count for
DABUBE AWARD
that is issued on application after having 100 stations alongside Danube River. Contacts are valid for the award since June 01, 2007
Log/AWARD application instructions
:
Activity logs and/or applications for the DANUBE AWARD are to be sent to:
Mr. Jozsef Szekely
HA7VY
H-2011
Budakalasz
Kinizsi u. 5.
Hungary
or via email:
HA7VY
as text attachment till July 30, in the actual year as to activity logs concerned. Your standard log extract (or spreadsheet) will highly be appreciated.
Final scores will also be published here.
Cup and certificates will be mailed to the winners. Please attach 2 EUR or equivalent in IRC to only Danube Award application for covering cost of postage.
More details and information can be available
here
.
---
Some words about Danube
The Danube, one of the world's great rivers stretches for 1800 miles from a spring in the Black Forest of southern Germany near Donaueschingen to the Black Sea. It runs east through Regensburg and Passau, Germany, to Linz and Vienna, Austria and on to Bratislava, Slovakia, then continues east to Budapest, Hungary where it abruptly heads south to Mohacs, Hungary. It is then joined by the Drava and again turns in an easterly direction to Belgrade, Serbia where its volume is increased by the Sava River. It then continues east, forming the border between Romania and Bulgaria, eventually creating a massive delta which now includes parts of Russia, Romania and Bulgaria, before emptying into the Black Sea. The delta is a very important bird sanctuary and breeding ground.


Esztergom - The gate of Danube River Band (Opposite - Sturovo, OM)
On its banks you'll still see women washing clothes, fishermen's huts, stock and geese being watered, crumbling castles, river hamlets and village scenes, not to mention urban bridges, promenades and shipping quays. You'll also see Roman remains (the Rhine, Danube and Euphrates rivers defined the borders of the Roman Empire), Austrian/Hungarian-Turkish-Balkan forts and palaces, Balkan army maneuvering and a large hydroelectric dam where once the "iron gates" (rapids) caused transportation problems, but bucolic scenes still predominate.
Between urban areas you can still see bits of "old Europe" -the whole historic panorama. You can even imagine the first crossing of the river by the Goths in AD 377, the beginning of the end of the Roman Empire. The river's former wild nature has been subdued and tamed but it can still assert its authority on occasion, flooding river towns and villages and changing channels.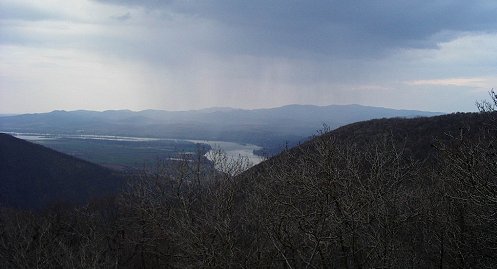 Mid of Danube River Band