NEWS
---
The actual and most important
Add PropagationStats to your site. Click on the image!

Please be informed:
This is the new site of HA2MN's pages running on new server since October 1, 2014. So welcome here!


New audio clips added
The latest is a QSO with Tomi, HA7RY as
KT4TTT
. Tomi spent a few days in FL before heading home from Navassa dxpedition. Thank you Tomi!
Finally the clip of
YI9PSE
with me is available to hear them in the jam of a contest. It sounds an uncertain QSO but not. Their online log proves that.
[March 29, 2014]
New publications
Two new Hajdu QTC publications added in Hungarian.
[March 25, 2014]
Renewal of site
Time has come to revisit pages after four years. The question was whether to operate a ham radio station or to waste time on maintaining a home page with devoting a considerable effort to it. Of course both are important so the question is answered.
As first step the site has been moved to another host. All content published earlier are preserved and available for a while. The empty pages are being filled, structural correction are being carried out. New content will be added step by step that is partly done for the time being. Please feel free to look around and come back time by time.
[October 6, 2014]
JT65-HF
Here it is my very first QSO in JT65 High Frequency mode (10 W out):
22:15 1 -8 -0,7 5 B HA2MN WD4GBW 73
22:13 4 -7 -0,6 8 B HA2MN WD4GBW R-14
22:11 7 -5 -0,7 8 B HA2MN WD4GBW FM17
22:10 CQ DE HA2MN on 14 MHz, 20100611
I have found that JT65-HF is an amazing low level signal operation mode. You can read more about it and download the program
here
. [June 12, 2010]
New QSO audio clips
Some new QSO audio clips have been placed on the
audio page
. Due to the new sunspot cycle the propagation has improved drastically and it is getting easier and easier to make myself be heard to DX stations. Though some tricks always needed, I mean to find the right calling frequency and to follow the DX's operating style. So I am to find the right "place" and the right time that makes me able to log a DX with a pileup.
As we are in the mid of contest season some more clips from March and April are still waiting for publicizing. One of them is
YI9PSE
dxped logged on the mid of a contest maybe in the last hours of their activity. They were not participating and their run got heavily jammed by the contest activity. So I made use of the situation and successfully completed a QSO with them just for the sake of fun. [April 15, 2010]
Azimuthal map
It is my azimuthal map for the whole world. I consider it useful even though I have no rotary beam facilities.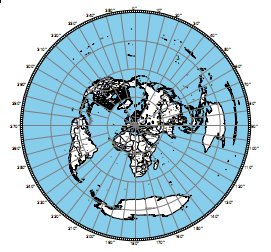 Tom, NS6T's site offers free to
create yours
even you can give a distance centered by your QTH locator to cover a limited circle area.
Sun activity rapidly grows
Due to rapidly growing sun activity the propagation has drastically changed for the better. The higher frequency shortwave bands show temporary and longer DX openings even though most of the stations are not yet so strong and they frequently vanish in deep QSB. But they can now be heard and worked after long, long years. The special start of Cycle 24 put up questions on how the sun really works. Scientists scratch their heads to answer those questions while ham radio stations get to fill the earlier empty frequencies.
Digital modes
The other day I decided to add a computer controlled PTT to my rig after long, long years to replace VOX operation. The interface needed 1 resistor, 1 diode and 1 transistor and some soldering job. I connected one of the soundcard outputs to mic input of trx. Trx AF output to soundcard line input has ever been connected to make me able to record activity on bands. All connections are direct. Since the computer controlled PTT works I am able to operate in digi modes using an UCXLog and MMVARI combination mainly. This software setup do support contest activity but it is less suitable for traditional chit-chat digi QSOs. The reason is that the length of prewritten macros is limited and a wide range of variables is not supported. You can see what I achieved for the time being (except recent contest contacts)
here
.
New publications are available
New publications are available now. Q-code table (Hu, En) can be opened
here
as well as the Collection of Ham Traffic Abbreviations (Hu, En)
here
. All were compiled in PDF format.
NH QSO Party is not cancelled
The Port City Amateur Radio Club has taken over the sponsorship of the New Hampshire Qso Party. Despite Contest Calendar the activity will be held with the same rules and times as in previous years (as written in Contest Calendar). The homepage
here
is being updated for more details.
Radio-active sunspot with M-class flares
M-class flare occurred on Februar 8, 2010. Radio blackouts may occurre in the next few days. Cloud of particles may reach earth in a few days.
More...
New series in HAJDU QTC
Hajdu QTC is the Hungarian ham radio monthly newsreel. It is edited by HG0EK and transmitted on the third Monday of the actual month. My new series titled "The Radioamateur" is about the radioamateur activity for those who have never heard of our special hobby. Unfortunately the language is only Hungarian as the QTC targets the local ham community. Should you be interested in some publications of earlier series please click
here
and for monthly contents and audios click
here
.
New homepage
The homepage is under renewal after a long while. Please note that there is a frozen URL (ha2mn.hu) available still. Were you there once just click on the call sign and you will be redirected to this new site.
Sorry, a good part of content is not available yet.
Kenwood boatancor mailing list
There are a great number of the most popular Kenwood boatanchors (TS-520, TS-530, TS-820 and TS-830) on the air even today. These transceivers have their own magic but being decades old they have their own specific technical problems either. There is an international mailing list dealing with repairing and maintenance of these rigs. You can find the list
here
.